Synd på meg …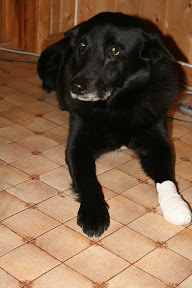 "Nokon" synast veldig synd på seg sjølv …
I ettertid har bandasjen vorte fjerna, noko som er ei soge for seg sjølv
• Murmur of unknownusing an elastic band placed at the base of the penis. The sildenafil.
. Å fjerna bandasje frå poten til ein hund med angstanfall er definitivt ikkje lett! Ved første forsøk måtte vi gje opp, og dagen etter ringde eg dyrlegen. Han meinte vi burde komma dit med hunden, men eg fortalde at vi var på arbeid begge to, og det fekk vere måte på styr
. Då vart resultatet at legen skreiv ut Vival(!). Vi skulle gje ein tablett og venta ein time for å sjå om det virka, og gje nok ein tablett viss det ikkje gav effekt. I alt tre tablettar kunne han få. Legen sjølv var ikkje overlykkeleg for løysinga, men eg trøysta han med at eg er sjukepleiar, så eg burde kunne observere verknad av vival sjølv om det er til ein hund.
Fredag kveld var dagen vi hadde sett av til dette. Fyrst 1 Vival pakka inn i brødskive med leverpostei. Effekt: Ingen! Hunden vart like nervøs då eg nærma meg poten. Men etter to tablettar vart det ganske annleis. Eg er sikker på at han gliste!
Han fann seg i at eg fjerna bandasjen og vaska litt, men det vart ikkje aktuelt å leggja på ny bandasje, men det hadde dyrlegen allereie sagt vi kunne droppe i og med at hunden er så redd.
Han får framleis antibiotika, og det ser ut til at det går rett veg. Men han vil framleis at det skal vere litt synd på han innimellom, då …

Postar som kanskje liknar:
Tags: reico