Kreativ datter / My creative daughter

Hulda på snart 9 og eg skulle kose oss med å lage julekort
. For å seie det enkelt: Eg vil ikkje syne fram mitt
. Ikkje kjem nokon til å få det til jul heller ..
. Så korleis i hampen har eg fått ei så flink dotter?
My 8 year old daughter and I were making christmas cards the other day. Or, I made one, that is, and it's definitively nothing to show. It will not be given away either
. So how come my daughter can make this?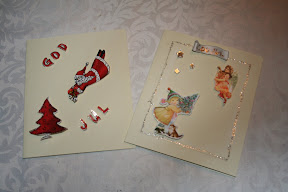 Eg er faktisk litt misunneleg for at ho får det til …
Gotta admit I'm a bit jealous!

Postar som kanskje liknar: