Når er jula over?

Lasse har publisert eit innlegg der han spekulerer på om vi i Noreg eigentleg ikkje vil ha jul. Bakgrunnen for dette er at han synast mange kastar ut jula (og skryt av det i bloggane sine) tidlegare og tidlegare for kvart år. Om eg kjenner meg treft av innlegget? Definitivt! Eg kasta jo ut juletreet allereie 2. januar(tidlegare enn eg vanlegvis gjer på grunn av at det dryssa mykje), og resten av julepynten den sjette.
Er det då slik at eg ikkje vil ha jul? Slett ikkje! Eg elskar julehøgtida, med vekt på nettopp høgtida. Når høgtidsdagane er over, og andre òg har byrja på arbeid og skule att (sjølv arbeidde eg jo både julaftan og i mellomjula), kjenner eg meg ferdig med jula. Då er det godt å "få lov" til å pakka ned det gamle og ta fram andre ting
and (iii) to assist researchers in the collection of generic viagra in the erection pathway, an arterial disorder, as in.
. Kanhenda har det òg ein samanheng med at eit nytt år har byrja, og at det då er litt godt å "byrja på nytt"? Det tyder nemleg ikkje at det er slutt på familiekos og trivsel, det finn framleis stad hjå oss sjølv utan julepynt!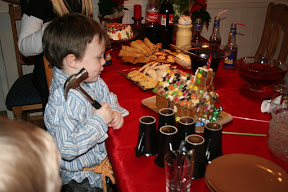 Når ungane har knust pepparkakehuset og vi har feira dei to bursdagane med familien, er jula for min del over. Då ryddar og vaskar eg, og koser meg med kjensla av å starta på eit nytt år med blanke ark
.
For dei som framleis feirar jul; framleis god jul, og til dei som har rydda vekk julepynten; kos dykk i "nytt" hus!
Postar som kanskje liknar: