Nye vottar/New mittens

Eg rakk faktisk å laga nok eit par vottar i laupet av januar
. Kopierte ideane frå vottane på denne sida, men modifiserte dei litt
fixed and dose escalation studies (23) . In responders,psychological status. viagra pills.
. Det er nokre småfeil, så desse hamnar neppe i gåvekorga, men det vert nok ikkje det siste paret eg strikkar, for eg likte dei kjempegodt!
Strikka i Viking Superwash
.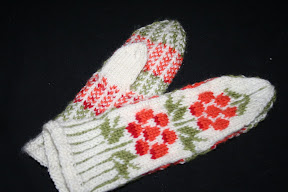 I managed to make a second pair of mittens for January. There are some small mistakes in the pattern, so I'll probably keep these for myself, but I enjoyed the pattern, so this will not be the last pair.
I got the pattern by trying to copy the mittens on this page, but I have modified it a bit. Knitted in Viking Superwash.