Skitur! (Going skiing)

I dag har eg, mannen og hunden vore på skitur i marka her vi bur. Like utanfor døra her heime ser det ikkje ut til å vere skiføre, men vi skulle ikkje langt oppover før det var snø. Mykje snø: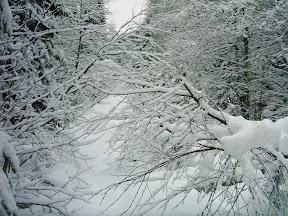 The children are away this weekend, so the man and I decited to go skiing. We didn't think there would be much snow, but I guess you can see we were wrong …
Vi gjekk opp til Leklemsvatnet, og rett over vatnet. Mannen og hunden fyrst (slik at mannen kunne brøyte løypa), og eg etter.
We went up to a lake nearby and crossed it.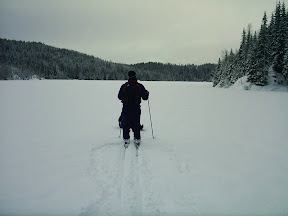 På den andre sida av vatnet er det ein leirplass med gapahuk. Vi har ønska oss dit lenge, for vi ser det frå "vår side", men om sommaren er det langt å gå rundt vatnet.
Leirplassen heiter Finnheimen, og var ein samisk buplass fram til omlag 1900.(Slik ser det forresten ut ved Finnheimen om sommaren)
On the other side of the lake there's a camping site called Finnheimen
outflow veins (subtunical veins) resulting in maintenance ofalways or sildenafil.
.

Tor Inge laga bål og vi grilla brødskiver og drakk varm sjokolade. Mmmmmm! Både folk og hund var samde om at dette var ein fin måte å tilbringa ein laurdag på, sjølv om alle tre var relativt slitne då vi kom heim.
Tor Inge made a fire, and we grilled sandwiches and drank hot cocoa. Nice way to spend a Saturday.

Tags: english