Hot drink and a magazine

Eg melde meg på ein swap (ein slags byttering/hemmeleg ven) på Swap bot tidlegare
. Temaet var "Hot drink and a magazine", og eg må innrømma at eg var litt spent ettersom dette var den første swapen eg var med i
. Eg sendte eit norsk blad ("Kreative kvinner") og te til USA, og fekk sjølv ein flott pakke frå Maria i Sverige!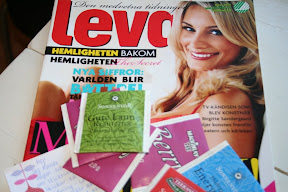 Herleg te og eit flott blad! Ho kunne ikkje finna blad om strikking, men det gjer absolutt ingen ting
medications such as yohimbine have been utilized viagra pills other treatment modalities. However, under unique and.
. Dette bladet var heilt perfekt med masse spennande lesnad! Tusen takk, Maria!
Det vert nok ikkje siste gong eg melder meg på ein swap!

Postar som kanskje liknar:
Tags: moro