Nok ein måndag

Har det verkeleg gått ei veke sidan førre oppdatering? Tydelegvis! Førre veke var ganske rotete eigentleg, for eg var på arbeid annakvar dag
. Hadde gledd meg på fri søndag, men måtte på arbeid likevel, så det har liksom ikkje vore noko samanhengande fri den siste tida, noko eg vanlegvis har i og med at eg har berre 50% fast stilling. "Men nu går alt så meget bedre".
I laupet av veka vart eg ferdig med ein halsvarmar til meg sjølv. Eg tok utgangspunkt i oppskrifta frå Drops, men brukte litt tjukkare garn og pinnar, nemleg det herlege Merino Alpaca frå Shibui Knits som eg fekk i pakken frå Nyheitsklubben til Strikk Innom
Halsvarmaren vart både mjuk og varm, så då Even fekk ein lei hoste på torsdag, gjekk det slik: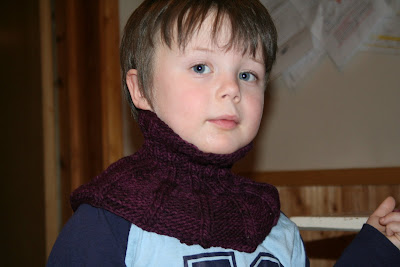 Om ikkje anna vart han iallfall betre, og eg fekk eit flott bilete!
I knitted this neckwarmer for myself in Alpaca Merino from Shibui Knits, but when my son started coughing, this was the result …
Fredag var forresten denne guten på innskriving på skulen. Han skal byrja i fyrste klasse til hausten. Vesleguten min! Han er kanhenda ikkje så liten lenger, eigentleg ..?
I går var det morsdag, og i staden for kaffi på senga, måtte eg på arbeid, men eg tok det då att likevel. Laurdag fekk eg desse vakre tulipanane av mannen, og søndag fekk eg ein flott pakke frå Hulda: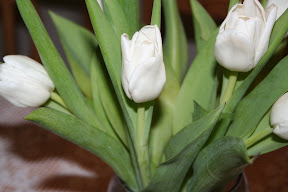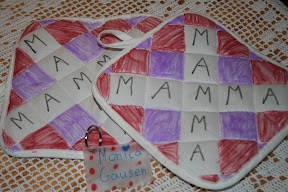 Lekkert, ikkje sant?
Yesterday we celebrated mother's day in Norway. From the man of the house i got flowers, and my daughter had made me a lovely present
. I feel lucky!
På pinnane har eg no eit nytt par moltevotter, litt større denne gongen, for dei førre vart veldig små. Dette paret skal nok bli gåve.

Tags: english